We're back baby!
We're back to 24/7 access, unlimited workout times and operating at maximum capacity (No more waiting during the busy periods!). Find out more on ourWorking Out Covid Free page.
Can't wait to see you back in the club with your feelgoodfam and smashin' out those COVID blues.
We've slashed out the extra gym features no one needs (like saunas, pools and rock-climbing walls) and tailored a unique space you'll ACTUALLY USE including;
gear
+ See more
PlatformPower RocksFree weightsDumbbells (Up to 50kg)Pin-loaded Weight CircuitCool Functional Training RoomTouch Screen Cardio Equipment with TVs - Hide
space
+ See more
KitchenetteAir ConditioningCommunity Hangout ZoneFitness Zones to Suit Your StylePersonal Showers and Bathrooms - Hide
access
+ See more
Easy Club AccessOpen Storage Lockers24/7 Access to All ClubsPlenty of Handy Parking - Hide
Whether you're just starting out or eager to push yourself to the next level, we've got a whole bunch of support and training options that'll help GUIDE YOU on your journey;
ClassesPersonal TrainingClub Orientations8 and 12 Week ChallengesPersonalised Workout PlansK.I.S.S. Do-It-Yourself Fitness ProgramsA bunch of members who love to encourage and support each other
Whether it's enjoying time with friends, doing something you didn't think you could or even just having some ME time, the ifeelgood experience is about enjoying what you're doing and having a blast with the rest of the feelgood fam - awesome people who care!!
For us it's all about providing an experience that ADDS TO YOUR LIFE with people around you that you love hangin' with.
Your
Cheer Squad
PERSONAL TRAINER
Shanu
PERSONAL
TRAINER
PERSONAL TRAINER
I'm loud, energetic and highly motivated PT with a mad passion for fitness! I always love trying new sports with boxing, calisthenics, krav magar and gymnastics being my favourites!
Nothing gives me more satisfaction than you being able to give your 110% in every workout and reaching those goals faster. Let's do this together as a Team!
- Show Less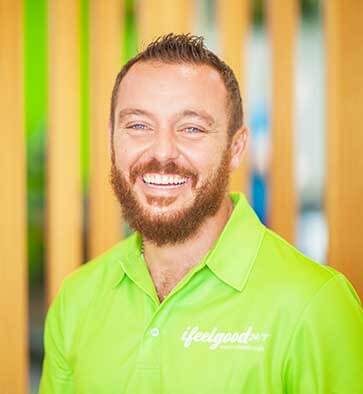 PERSONAL TRAINER
Beau
PERSONAL
TRAINER
PERSONAL TRAINER
I'm a passionate trainer, motivator and enthusiast of fitness. Nothing makes me happier than taking someone from one stage of their life and being a pinnacle point of change for their future.
My favourite sport is boxing. My favourite hobby has always been lifting weights and my love for people makes this job the best I've ever had.
- Show Less
PERSONAL TRAINER
Nathan
PERSONAL
TRAINER
PERSONAL TRAINER
I love one-on-one HITT, strength and hypertrophy training. I became a PT after going through a fitness/weight-loss journey myself and continually seeing the benefits of healthy living in my life!
- Show Less
PERSONAL TRAINER
Amelia
PERSONAL
TRAINER
PERSONAL TRAINER
I am passionate about working with those who want to embark on their health journey, but may not know where to start nor have the support they need. As a female, I understand and have personally experienced the pressures that are present in the world of health and fitness, and aspire to create a culture that promotes a balanced and flexible lifestyle that empowers people to reach their goals!
- Show Less
Start
feeling good!
Join now.
Join now.
[contact-form-7 404 "Not Found"]
Get
In Touch!