We're back baby!
We're back to 24/7 access, unlimited workout times and operating at maximum capacity (No more waiting during the busy periods!). Find out more on our Working Out Covid Free page.
Can't wait to see you back in the club with your feelgoodfam and smashin' out those COVID blues.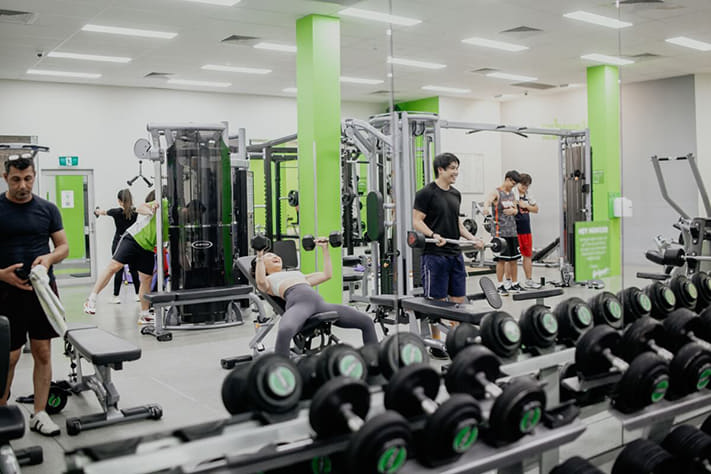 We've slashed out the extra gym features no one needs (like saunas, pools and rock-climbing walls) and tailored a unique space you'll ACTUALLY USE including;
gear
+ See more
PlatformPower RocksFree weightsDumbbells (Up to 50kg)Pin-loaded Weight CircuitCool Functional Training RoomTouch Screen Cardio Equipment with TVs - Hide
space
+ See more
KitchenetteAir ConditioningCommunity Hangout ZoneFitness Zones to Suit Your StylePersonal Showers and Bathrooms - Hide
access
+ See more
Easy Club AccessOpen Storage Lockers24/7 Access to All ClubsPlenty of Handy Parking - Hide
Whether you're just starting out or eager to push yourself to the next level, we've got a whole bunch of support and training options that'll help GUIDE YOU on your journey;
ClassesPersonal TrainingClub Orientations8 and 12 Week ChallengesPersonalised Workout PlansK.I.S.S. Do-It-Yourself Fitness ProgramsA bunch of members who love to encourage and support each other
Whether it's enjoying time with friends, doing something you didn't think you could or even just having some ME time, the ifeelgood experience is about enjoying what you're doing and having a blast with the rest of the feelgood fam - awesome people who care!!
For us it's all about providing an experience that ADDS TO YOUR LIFE with people around you that you love hangin' with.
Grab some mates and put yourself out there with our awesome INSTRUCTOR-LED class options. Choose from a VARIETY of classes that tick your box: beginner, advanced, one-on-one, group, chill and high energy.
YogaBoxingFat BurnCross FitBoot Camp6 Packs Abs40+ Womens FitnessAbs, Butt and ThighsWomen's Fitness Training21 Day Fitness Challenge
Your
Cheer Squad
CLUB MANAGER
Yen-Hsi Chou
CLUB
MANAGER
CLUB MANAGER
Training is not just about looking good, it is also about feeling good inside and out. Let us help you in improving towards a better lifestyle. We can help you improve on your strength and fitness so you can get more out of your day to do the things you love.
At ifeelgood 24/7 Calamvale we have a very friendly and professional team to help you in achieving your fitness needs, so come down and see us today.
- Show Less
CLUB TRAINER
Nell
CLUB
TRAINER
CLUB TRAINER
I believe that a healthy lifestyle should not only be a priority in life but should be our main priority. My desire is to spread this message and encourage and motivate others to enjoy a healthier lifestyle through better choices. Not only through fitness but also through better nutrition and better ways of dealing with life's pressures.
I would one day love to see businesses and schools adopt a better lifestyle program for all of their employees and students so that eventually doing 20 minutes of high intensity exercise before lunch is just part of a normal day.
- Show Less
CLUB TRAINER
Phillip
CLUB
TRAINER
CLUB TRAINER
I strive to challenge your limits mentally and physically whilst providing a constructive and informative experience. I aim to train you so that you are self-sufficient at the gym. You can expect that the moment you walk into the gym by yourself, you'll know exactly what to do.
I have an extensive background in striking martial arts including: Boxing, Taekwondo and Muay Thai. With these experiences, I'll be able to teach you effective striking fundamentals whilst also giving you a vigorous cardiovascular workout.
- Show Less
CLUB TRAINER
Peta
CLUB
TRAINER
CLUB TRAINER
I have a background in Powerlifting, Natural Bodybuilding and Dance. I believe that resistance training is the key to living a confident and healthy life. So much of my training stems from 3 key elements in weights training – Squat, Bench Press and Deadlift.
Contact me if you require assistance with technique in these major lifts and for direction in gaining lean muscle mass and burning body fat for good. With a history of clients achieving goals in all areas of fitness and health, I can confidently guarantee you results.
- Show Less
CLUB TRAINER
Bobby
CLUB
TRAINER
CLUB TRAINER
I am a technique focused trainer. Giving your muscles a full workout and seeking for a more effective next repetition, is more important to me than lifting heavier KGs.
PT is not just my job, it is my passion. Allow me to introduce my philosophy in Fitness Training to you today and enjoy a more effective and efficient you tomorrow.
- Show Less
Start
feeling good!
Join now.
Get
In Touch!