We get it is a busy time of year for everyone, and sometimes your fitness routine may fall by the wayside. You might be away travelling, have children home on holidays, or maybe you just want to chill at home for the break and avoid the traffic. So we have designed a few workout routines that require no gym gear or weights – just you and your favourite workout tunes.
These 15-20 minute full body workouts will leave you feeling energised, of positive mind, and your bod will thank you for giving it some tender loving care over the holidays! So, put away those excuses and pick up your headphones for some fast-paced workouts you can do anywhere!
Full body workouts from home or while travelling
Complete 3 rounds and if you're feeling super energised – try for 5!
'Get me Movin' Workout
Push Up (Knees or Toes) x 12
Let's start with a bang. Push up's are super-effective and work a variety of muscles including the pectorals, deltoids, triceps and abs. The perfect warm-up to start your routine.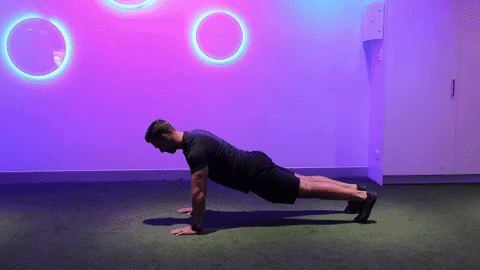 Mountain climbers x 20
Get the heart pumping and activite your deltoids, biceps, obliques, quads, hamstrings, abs and more. There really ain't no mountain high enough to keep you from doing this killer exercise technique.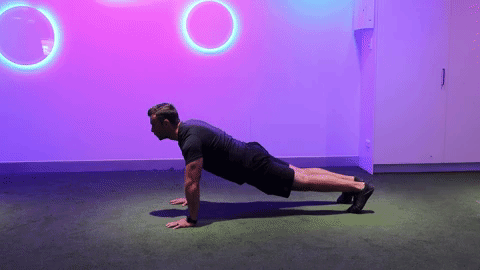 Bridge x 12
Cross over to the bridge for some core burn and glute toning, working your hamstrings, rectus abdominis, and adductors.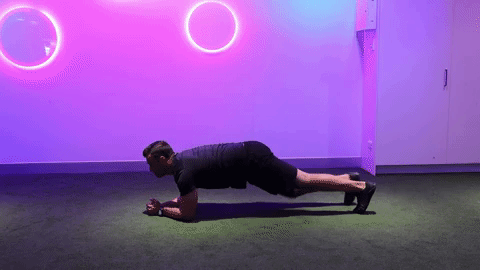 Crunches x 12
Feel the crunch strengthen your midsection and front of your torso. Add a little rotation to your efforts to engage the obliques. Don't forget to breathe!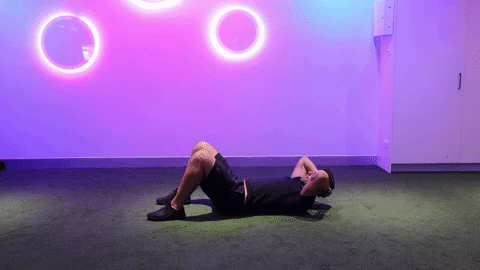 Step Ups x 20 (10 each leg)
Give those abs a reprieve and step up your game by working your thighs, hamstrings, hip flexors and calves.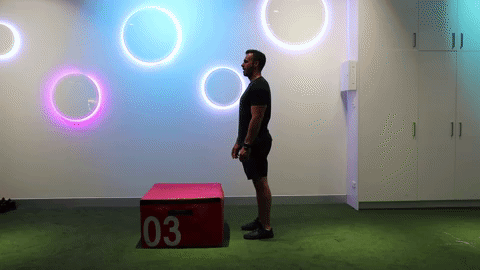 Dips x 12
Time to dip into some upper body exercise. Work your pecs, triceps and rhomboid muscles in your back. Remember to keep your back and neck nice and straight.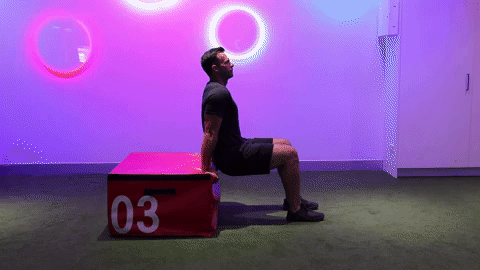 Skaters x 20
Finish off your routine with this effective cardiovascular exercise which strengthens your legs and improves overall stability and balance.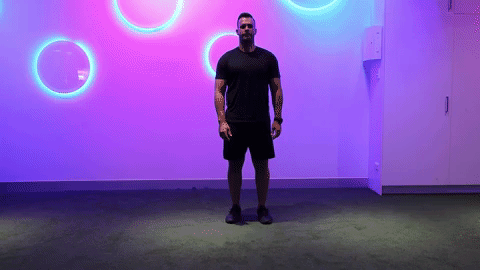 And you're done! Wind down with a couple of easy stretches and give yourself a pat on the back. You've just gifted yourself with a full body workout that you can do anywhere and requires zero equipment. All you need is yourself and a little motivation.
'Feelin energetic' Workout
Squat Jumps x 12
We're not mucking around with this workout. Starting with squat jumps get's the heart pumping while working your quads, hamstrings, glutes, lower back and abs.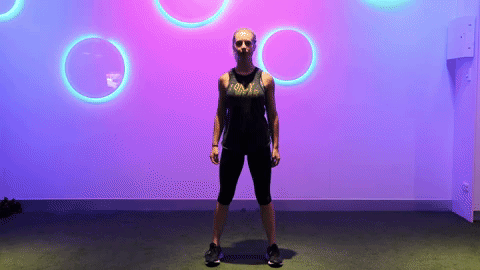 Push Up with knee to elbow x 12
The boring old push up just got fun. As you bend your elbows bring your knee out and up to touch your elbow, and back down when you push up. This works your legs, arms and abs all at the same time!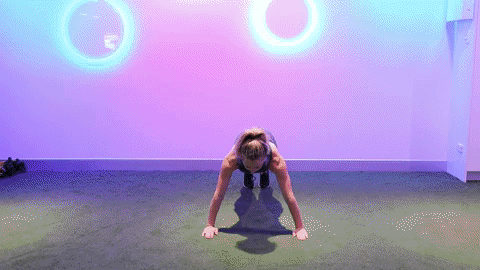 Box Jumps x 10
Not for the faint-hearted, after ten of these bad boys your legs will be on fire. Box jumps build both upper and lower body strength and work all of those lovely leg muscles.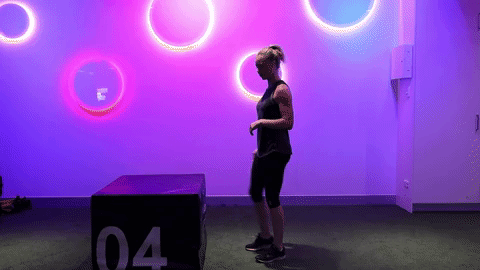 Dips x 12
Give those legs a little break and add mass to your triceps with twelve dips. This effective movement also works your chest and shoulders. If you have good upper body strength, try wearing a weighted dip belt or heavy backpack to make it more challenging.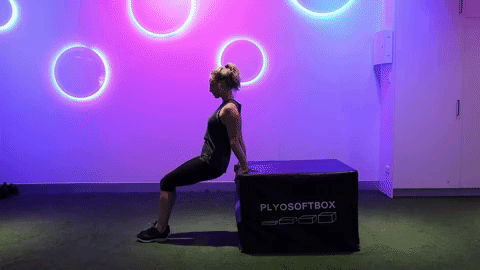 Hip thrusts x 12
Time to warm up those butt muscles with a handy hip thrust or twelve. Improve strength, power and speed through optimal hip extension.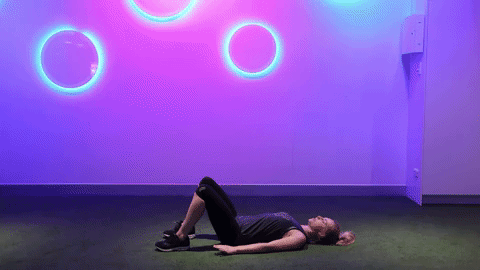 Mountain Climbers x 20
After 20 mountain climbers you'll be ready to conquer Everest. You'll feel muscles activating pretty much all over your body, look at you go!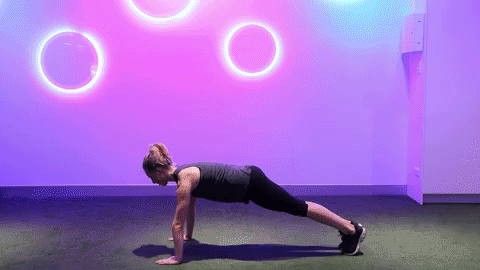 Single Leg Deadlift x (10 each leg)
This exercise doesn't look like much; but it's a killer technique to strengthen your back, core and legs. It's great for your balance and even better if you can hold a kettlebell or dumbbells.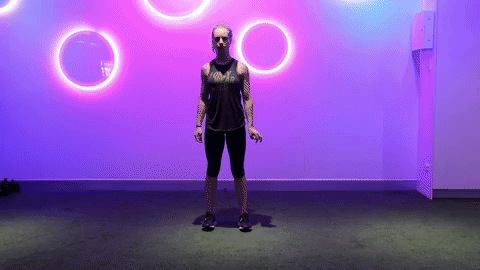 Superman on belly x 12
Finish off like a true superhero and build your back and ab strength. This great back extension really targets the obliques; but be careful not to overextend.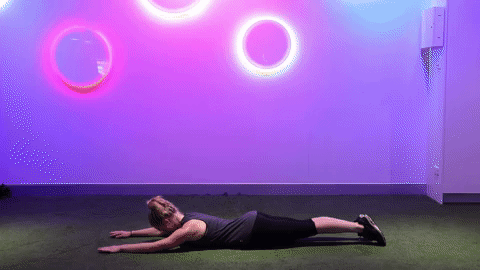 Complete your routine with some gentle stretches. You should be feeling suitably pumped and proud of your full body workout. Who needs a gym when all you need is 20mins and a floor! Although working out with our amazing ifeelgood people is always more fun.