Some may think that running in Queensland's brave winter cold is difficult! However, going for a run in the sweltering Queensland heat is a never-ending challenge. When the heat waves of the Queensland outback roll in, nothing seems more tempting than lying in a hammock sipping iced tea! But frankly, skipping out on your daily run is just not an option. Below we have a simple, breezy runner's guide that will help you over the summer heat.
Avoid the heat
Adjust your running timetable and try implementing your daily runs early in the morning or late in the evening. Hiding from the sun and having your runs in the shade is one of the simplest ways of staying cool.
Play it smart
Slowly shape up your tolerance for running in the summer heat. It can take a while before your body starts to adapt to the summer heat. Start off at a slower pace or shorter distance. As the weeks go on by, your body will adapt to the heat and you can resume at your normal pace.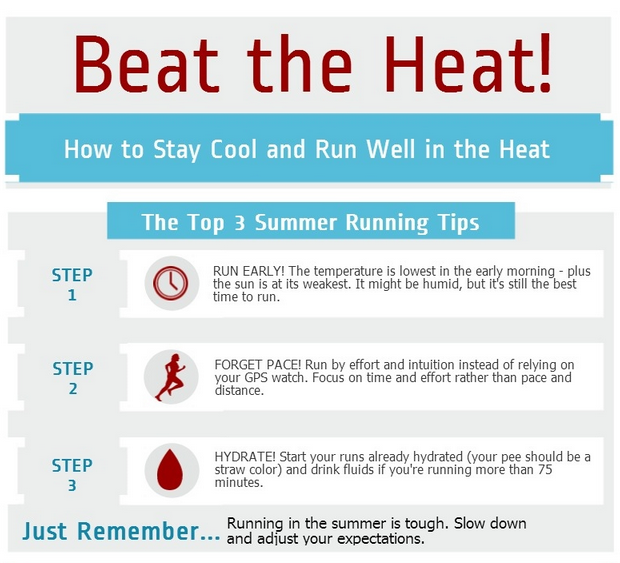 Slip slop slap
Protecting your skin from UV rays should be part of every runner's kit, winter or summer. However a sweat proof sunscreen can keep your face sweat free and keep you cool.
Keep hydrated
Lack of water intake can result in dehydration which is every runner's enemy during the summer heat. It's important to understand that being hydrated doesn't mean gulping a few glasses of water before and after your run. In order to be hydrated throughout your run, drinking lots of water every day is essential. Having a moderate amount of water every hour or so will effectively keep you hydrated and will prevent cramps and dehydration during your actual run. Bonus Tip: During your run, have a sports drink such as Gatorade which contains electrolytes. Gatorade will ensure all minerals lost through sweating and running are replenished.
Dress appropriately
Wearing appropriately clothing can make your run much easier during the summer heat. White and light-coloured loose clothing reflect the heat, while dark clothing will attract the heat. Take advantage of light and breathable clothing to ensure you are cool throughout your whole run. Additionally, using moisture-wicking clothing that dries out sweat quickly can be a major benefit.
BE CAREFUL
Most importantly, be careful taking on the summer heat. Signs of heat exhaustion include headache, nausea, dizziness, disorientation, and decrease in sweating, pale dry skin, blurred vision and loss of muscular control. If you notice any of these symptoms during your run, stop immediately. Your health and wellbeing is much more important than reaching a new personal record. Get to a shaded area, have some water slowly and pour some water over yourself while you wait for assistance.